Hey all!! How's it going? Been busy here with Baseball games. We had three games to make up due to the rain we have been having. We have made up two of them and won both of them!! Whoo hooo!! We have one more Friday night and then next week starts tournament play. How was your Memorial Day? We didn't do much really other than grilling hamburgers and hotdogs right here at the house. Spent Saturday cleaning the oldest sons room and packing up most of his stuff. We are moving July 1st and trying to get as much done before hand. A little everyday and maybe I'll be ready by July 1st!! LOL
My new adventure - Well, I use to sell Avon - but when I did they didn't have it online. I saw the other day Avon online and I thought wow - that would be great. So, I am now an Avon Representative again. I hope that you will stop by my shop and check it out!! You can get free direst delivery with a $30.00 order. I hope to see some new customers from my Digi family.
A FREEBIE!!! Been a little while since I gave you one huh? Well, I have another Frame Freebie for you!! Baby's 1st Tooth!!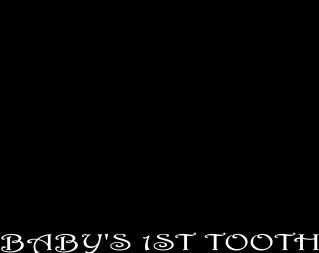 Download Here
Hope you enjoy!!
Hugs
Melody