Hello all!! How's it going? Here it has been busy. Getting ready to move July 1st and I have been busy busy busy going through things and packing. I hate moving but at least it's a chance to get rid of some stuff that you really don't need. LOL!! Plus, we had baseball tournament last week. This is how it started...
At the end of the season we were in 5th Place out of 11 teams. We got a bye the first night but guess what on the second night we had to play the #1 team. Ut oh!! LOL!!! But guess what - WE WON!! And Tyler's previous coaches team was in 8th place and they won the first night and had to play the 2nd place team the second night. And they won!! So, between the two of us we got rid of the #1 and #2 team. The third night we had to play the director of baseballs team. Now we beat them early in the season but they had improved alot and this one I was scared of. The way they play here is there is no time limit but you play six innings unless one team is so far ahead the other team couldn't catch up. There is a run limit in each inning of 5 runs. So, anyway we were the home team and we were tied 3-3 going into the bottom of the sixth inning. Oh no we might have to play on since this is for the championship. Well, let me tell you Tyler came up to bat. He got a walk. Then he stole second base. That's right my son stole second base. The other team did make a throw to get him out and let me tell you if he had slid he would have been out. But the smart boy that he is or actually by accident he hopped over the tag and was safe at second base. Whooo hooooo!!! He said he didn't even know that he jumped over it. It didn't matter - he was SAFE!!! Then the kid at the plate got a hit and Tyler was on third and the boy that hit was on second base. Ok - now we are in good shape. The next hitter came up and hits a fly ball to the outfield - and the boy dropped it - so Tyler came home for the WINNING RUN!!! That was so neat!! He was so happy!! We won 4-3!! We were on our way to the championships!! Meanwhile my nephew Dillon was playing on another field playing the 8th place team that had beat the 2nd place team - and my nephews team lost. Such a bummer that Tyler and Dillon wouldn't be playing each other!!
So, Thursday night was the Championship and of course it rained a little before the game started. Then it rained off and on during the game. Again, we were tied 3-3 in the bottom of the sixth inning. And WE WON again 4-3!! WE ARE THE CHAMPIONS!! I was so proud for Tyler because he hasn't never been on a team that made it past the first round before!! It was so exciting!! Check it out!!
Tyler getting his championship medal from Coach McGrath!!
The Richmond Hill Cubs - Champions 9-11 yrs. old
Tyler and of course Caden taking a victory lap around the bases!!

Tyler, Caden, Bentley, and me!!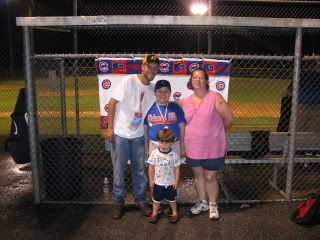 Well, enough of that you've stayed this long it's time for a FREEBIE!! Today I have for you.....
Download here!!
Enjoy!!
Hugs,
Melody