Froggypond (Marsha Connell-Torre) and AScrapbookDiva (April Sevigny) have designed a HUGE, ELEMENT PACKED, MEGA KIT for this months challenge.
In fact, they got SO carried away creating A Country Easter, they have had to move their crop to the SECOND Tuesday for this month.
You can purchase their kit ... NOW AT 57%OFF ...yup, only $3.00... till May 7!!!!!!!!
This is a deal you will NOT want to miss. Remember, AFTER THE CHAT, there will be additional elements which you will receive if you have purchased our kit.

Although the main theme is Easter, there are so many soft pastels that this kit would be perfect for any Springtime layouts.

What is the Challenge?
Use as many of the featured element as possible in your layout without making it crowded, or take the focus off of the picture. You may use all of the element freebies in your layout or pick one or two an use many of them. It is up to you.
Every month there will be a featured kit and "featured" element freebie you will get at the chat.
There will be a posting bonus if you use a different kit. If you use the featured kit you will receive the posting bonus plus another gift for using the featured kit.

Come to the Chat on April 8 at 7pm to find out what the Element of the Month is.

You have until May 7 to complete the Challenge.
Post your layouts here

Here are the close-up for Marsha's contribution: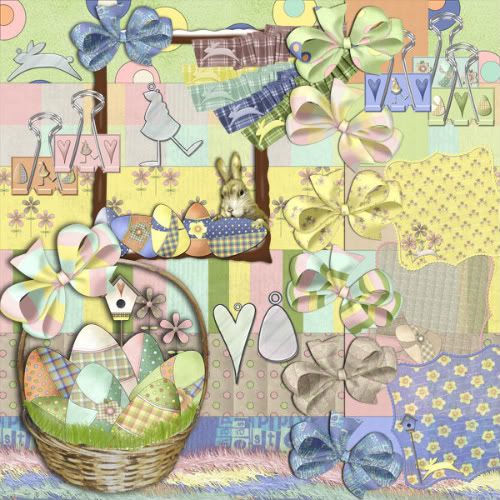 And April's contribution: