Hello everyone!! Boy it's been a while since I posted anything good on here huh? Well, we did have a great time at the Nascar races in Atlanta. We left on Friday, March 7th and got to the hotel about 4:00 p.m. We then left the hotel about 5:00 to go to the truck races. Here's a photo for you.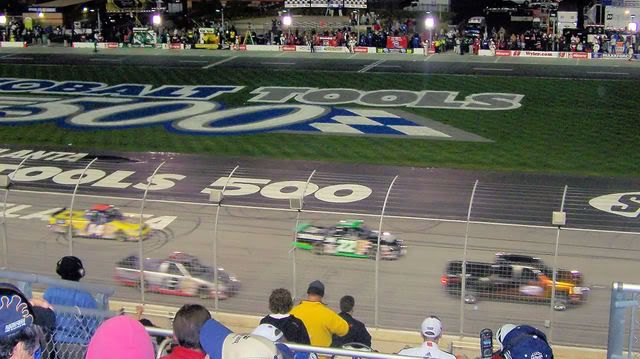 The pace truck bringing down for the green flag!! We had a loud noise happen right in front of us and come to find out a little ways down the track our driver that we like in the trucks, Johnny Benson had blown a tire right in front of us and he hit the wall a little further down the track!! Exciting but disappointing for our driver.
Saturday was a great race - but man was it cold. We woke up to snow - yes, snow!! Don't believe me - look at this!!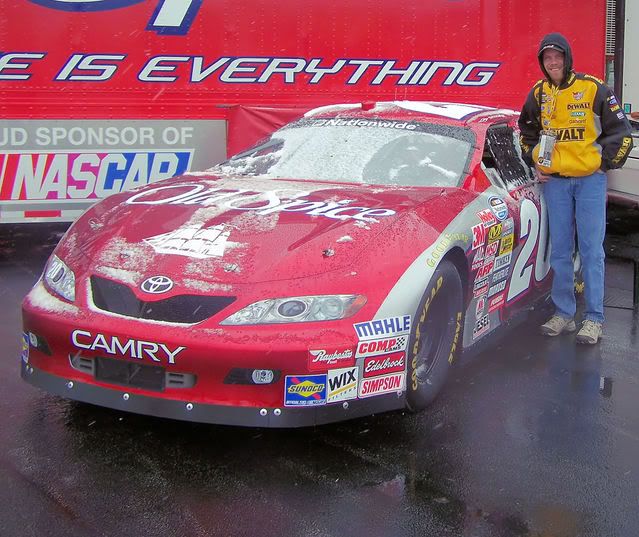 See the snow on the windshield of that car? I don't think that I have been so cold for so long in all my life!! We were bundled up, bought gloves, (because after 5 minutes your hands would go numb and hurt from the cold), and bought blankets too. And we were still freezing our buns off. But in the end it was worth it because dh got to see his man win in the Nascar Nationwide Series (formally Busch Series)!!
Here's photos - one of my favorite driver and dh's driver!!
My driver - #9 Budweiser Car driven by Kasey Kahne
Dh's Driver - #17 DeWalt Car driven by Matt Kenseth
And here's one of us on Sunday in the stands!! By the way Kyle Busch won Sunday and got Toyota their first win!! Don't care for him but glad to see Toyota get their first win!!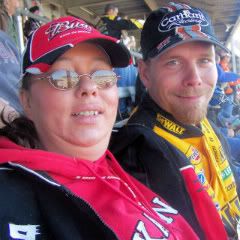 Don't know what was up with dh's smirk in this photo!! hee hee
News
I have just taken a position with Froggypond Designs (Marsha) as her ad lady. I am so excited to be working with her again. I love her kits and was with her when she first started designing and she's a wonderful friend!! This is my first venture as an Ad person but since I do the newsletter for Moo Two I guess I am somewhat of an ad lady already!! Well, Marsha is having a CT Call - see ad below:
She's looking for 3-4 CT members. Create 2 layouts with her kits, write a review for the kits in her stores, and post layouts at The Scrapping Garden, 3Scrapteers, DST, and one other of your choice. If you are interested email Marsha at marsha@thefroggypond.com
Froggypond has just added two new kits to her stores!! Check them out!!
Grandmothers Parlor - Find at TSG & 3Scrapateers!!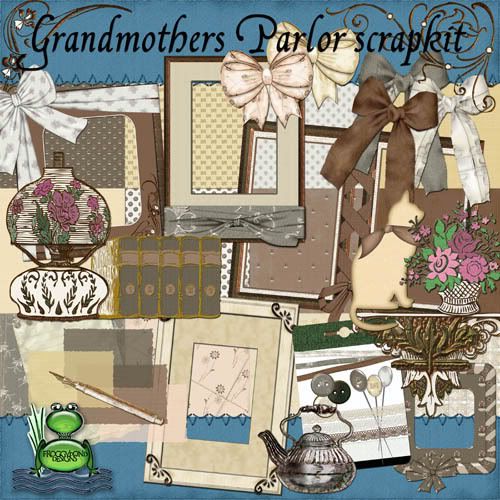 Tapestry & Lace - Find it at TSG!!
And now last but not least - your freebie!! Here's my first attempt at wordart!! Hope you like it!! Comments are welcome - even if it's constructive criticism!!
Download Wordart here
Enjoy
Hugs,
Melody