Just a quick post to let you all know that I got chosen as Layout of the Day at Moo Two Designs for my Happy 10th Birthday Tyler layout!!
Check it out here!!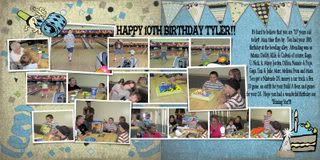 Journaling reads: It's hard to believe that you
are "10" years old today!! Man, time flies by.
You had your 10th Birthday at the bowling alley.
Attending was us (Mama, Daddy, Allie, & Caden),
of course, Raga, U. Nick, A. Missy, Jordyn, Dillon,
Nannie & Pops, Gaga, Tim & Julie, Marc, Melissa,
Evan and Mara. You got a Nintendo DS, money, a
car track, a Ben 10 game, an outfit for your Build
A Bear, and games for your DS. Hope you had a
wonderful Birthday our "Shining Star"!!!!
Layout done using ScrapKitten's Birthday Thoughts found at Scrap It Sassy and SimplyYin's Freebie Template #25 found on her blog.
I am so excited!! Thanks for looking!!
Hugs
Melody