Boy - it's been awhile since I posted anything on here!! Just can't seem to find the time to get on here sometimes. Lots of birthday's last month and this month - so been busy with all of those. The last one -

Caden's

, is tomorrow. That's right the BIG 2 years old!! Well, his actual

birth date

is the 23rd but this weekend was convenient for everyone so.... We will be partying down at the park tomorrow with

Caden

and Thomas the Tank Engine.

lol

That boy loves him some Thomas. The first thing he wants to do when he wakes up in the morning or from his nap is put a Thomas DVD in. It's cute but

aggravating

sometimes. But I know I should cherish these moments because they don't last long....
Bentley (

dh

) has been working out of town in Mt. Pleasant, SC. for the last three weeks. So, this Wednesday I packed the boys up and we headed up there for the night. Where he was working and the motel was close to Patriots Point where the USS Yorktown Aircraft Carrier

Museum

and all are. So when Bentley got off work we took the boys to see it and let me say WOW!! Can you imagine? So much to see - plus there was a submarine, battle ship, and a coast guard ship. The only bad thing is that they close at 6:30 and we just didn't have time to see it all!! We are planning on going back when we have more time to explore...
Here we are - check us out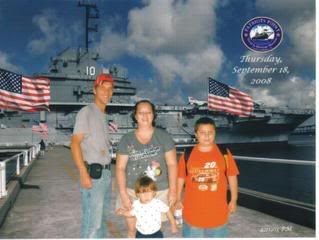 Photo taken by Patriots Point
Ok

, new news. Well, I have joined another wonderful CT team at Groovy Scraps...

Whoohoooo

... Haven't gotten any scrapping done for them yet but I have to get busy for these wonderful gals!! Also, they are having a $1.00 Sale from today, September 19

th

- September 21st. You have got to check out some of the awesome items that are just a $1.00. Too cool to miss!!
Also, Moo Two Designs is having a Harvest Sale September 20

th

- September 26

th

. Lots of items will be 50% off!! Check it out too - we have lots of new designers - including some new tagger size designers....
Well, that's about it for now!! Tyler has a

soccor

game tonight and I have to get ready to party with Thomas!! Not to mention lots of scrapping to get done!! Have a great weekend!!
Hugs
Melody