Froggypond Designs has two new kits out today at The Scrapping Garden!! Check out these aweosme kits!!

Elegant and Eclectic is the perfect description for this scrapkit!!
This kit is unique in that it is not your "typical" pastels. The color combo is deep pink, slate blue, greys, and black. Scrapping with this kit promises to make your professional photos, invitations, and annoucements stand out above all others!!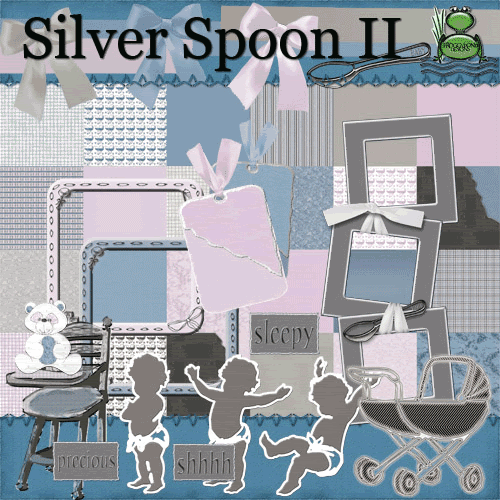 Kit Includes:
24 12x12 papers
1 silver spoon
2 tags
2 vellum baby embellishments
1 teddy bear
3 silver word art plaques
1 baby carriage
1 high chair
1 triple, mini frame
2 porcelain and silver frames
3 satin long-tailed bows
3 satin ribbons
3 diapered baby stickers
2 pair of baby shoes

On sale now at
The Scrapping Garden
for $3.00 for a limited time!!


Also available, seperate from the kit are the
Silver Spoon II Boy Bragbook Pages
, and the
Girl Bragbook Pages
, both on sale for $2.00 for a limited time!!



And this wonderful kit also!!

Snips and Snails, and
PUPPY DOG TAILS
... that's what little boys are made of!
This collection of blues, yellows, and pastel greens will delightfully show off your baby or toddler boy. Grunge and bold check papers, created in 12x12 (300dpi) will set the background for your little man!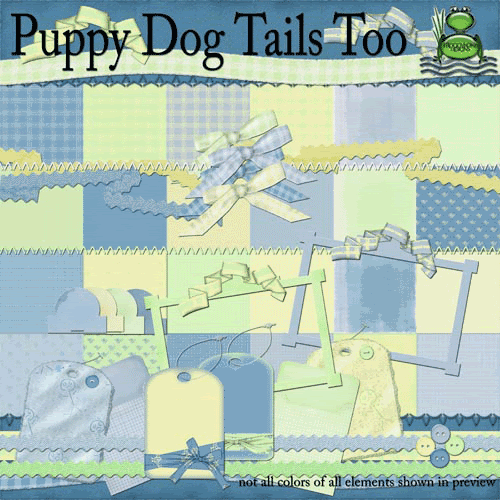 Kit Includes:
24 background papers
4 bows
4 buttons, with fiber included
2 envelopes
2 geometric frames embellished
2 check folded ribbons
4 straight ribbons
4 wavy ribbons
5 rows of colored stitching
4 stapled tags
4 tags
4 folded ricrac
4 straight ricrac

On sale at
The Scrapping Garden
for $3.00 for a limited time!!
Check out these fun new kits from Froggypond Designs!!
Hugs
Melody