Hello all!! How's it going? Me, been busy and a bad blogger. Haven't been on this old blog-a-roni in awhile. How was your Easter? Ours turned out pretty good. On Saturday we went to the annual Egg Hunt at the park here. Here's a couple of photos I wanted to share with you....
Caden with the Easter Bunny - Daddy had to hold him because he wasn't getting near that Bunny by himself....LOL
Caden hunting Easter eggs - well if you can call it hunting!! They only had about 25,000 eggs laid out throughout the park. They split kids up by age and each age group went to a certain area in the park to hunt eggs. So, I only got photos of Caden since Tyler was in the 9 & 10 year old group and wasn't near us

.
Check out how many eggs he got!! All of his had candy in them!! Some eggs did have tickets to win either a bike or a stuffed animal. My niece won a bike!! Photo below!!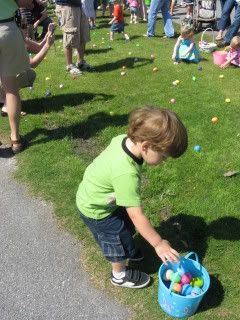 Tyler, Caden, Dillon, Jordyn, & Raga - This is all the kids with my Mom and the bike that my niece Jordyn won.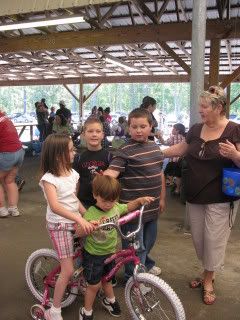 Tyler had his face painted as a dog.... Caden had his painted but as soon as he got down from the chair he rubbed his face and poof it was almost all gone!! LOL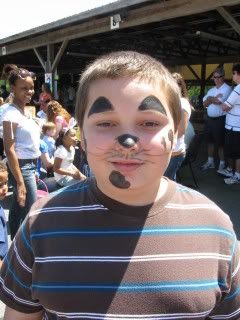 So, that was Easter - we spent Sunday at Bentley's parents for dinner and Caden hunted a few eggs but was more interested in riding in the Cozy Coupe....

Onto some NEWS you can use.....LOL - I have decided to get back into scrapping some after taking a much needed break. To start me off I have joined my wonderful and fun friend Terrell of Designs by TerrellS. You can find her designs at Divine Digital exclusively. I am excited about getting back onto a CT team and about being on Terrell's team.
Now, for the FREEBIE..... I have a QP for you using Designs by TerrellSs' "Boys Will Be Boys kit".
Here's a peek at the kit
And here's your FREEBIE QP.....
Download here
And here's my example using it!! Tyler, Caden, and a neighbor boy, Jo Jo playing in the leaves.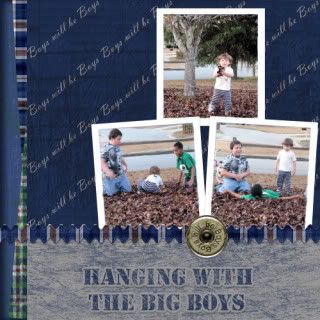 Hope you enjoy!!! Stay tuned for more goodies coming in the future!!
Hugs,
Melody