Well, how was everyone's halloween? Mine, was great!! We treaked over to my brother's neighborhood to trick or treat with him and his kids!! What really surprised me is the number of people that don't give out candy anymore!! I remember as a kid there being tons of people participating!! I guess times do truely change, huh? Well, Caden was so cute in his Dragon costume and Tyler was really scary in his Dracula costume!! They both had a good time and were more tired than we were by the end of the night!! LOL Lots of fun had by all!! Caden just loved being outside and walking up to the doors like a big boy!! Here's a couple of photos!!
Caden strutting his stuff in his Dragon costume!!
Tyler (my oldest)is Dracula, Brandon (a friend) is the jailbird, Dillon (my nephew) is the beat up football player, Jordyn (my niece) is the mermaid, & Caden (my little one) is the dragon being held by his Daddy!!
Well, Moo Two has alot of things going on for Digital Scrapbooking Day, this Saturday, Nov. 3rd!! Check them out:
Check out this HUGE Commercial use Mega Kit. Only $12.50 for over 200 MB of useful tools from the designers at Moo Two.
Available FRIDAY,

Nov 2

in the
Moo Two Store
. Grab it while you can!

Come an join us at Moo Two Designs on the evening of Digital Scrapbooking Day for lots of fun and awesome prizes! See you there!!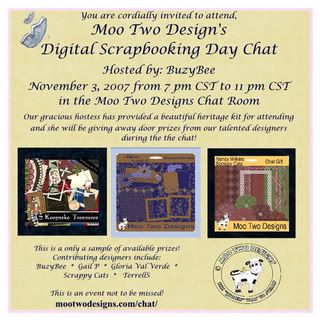 Looking for a challenge? Then check out the awesome challenges at Moo Two Designs! New Challenges and games begin November 1st. We've got some of the best prizes on the net. So ya'll come on down and visit us on the farm!
We're having a big Barn Yard Sale at the Funny Farm starting this Friday! Ya'll come on down, sit a spell and check it out!
Mega kit Madness Sale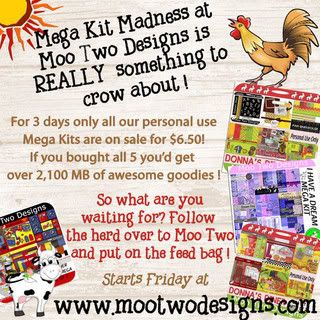 There are some awesome things happening this weekend at Moo Two Designs!! Hope to see you all there!! It's sure to be a hoot!!
Hugs,
Melody