Hey all!! How's it going? Me, pretty good today!! Did get a little goodie made for you today. Other than that not much is going on today. Tyler was suppose to have a baseball game last night but bad weather decided to come rolling in!! So, needless to say that's one more makeup game we have to do. Oh well, that's the brakes!! LOL
Don't forget that Terrell is having a CT call!! If you are interested contact her!!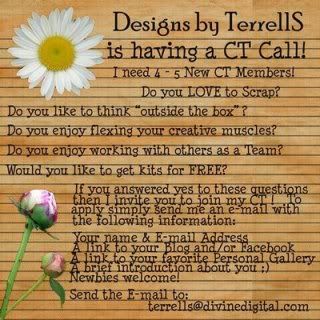 Here is a layout I did using
TerrellS's
Baby Boy kit.
Credits: Kit - Baby Boy, Designs by TerrellS, Divine Digital
Template - M Originals, Template 365 Series #008, BlogFreebie
Font - His Name is Honey
Here's a peek at the awesome kit, Baby Boy:
You can find it here
And finally, here's your FREEBIE...
Two bragbook qp's made using Terrell's Baby Boy kit!! Hope you like them!!
Bragbook QP #1

Here's my example:
Bragbook QP #2

Here's my sample:
You can download here...
Hope you like them!! Leave me a little note and let me know if you'd like more bragbooks QP's or to see regular 12x12 QP's.
Hugs and Enjoy,
Melody