Good evening all!! I see some people have left me some presents!! Thank you - I love pressies!! LOL Anyhow, this is the post you have been waiting for!! Here it is:
IN CELEBRATION OF MOO TWO DESIGNS FIRST BIRTHDAY BASH!! WE ARE HAVING A TRAIN PARTY!! COME ON AND RIDE THE TRAIN!!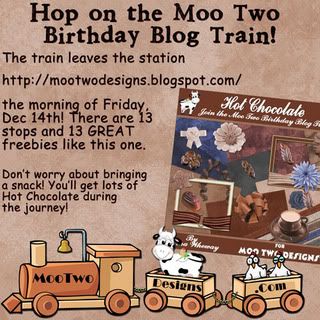 Evidently you have jumped on the train ride or you wouldn't be visiting my blog, right? This is stop #13 on the ride!! I am hosting Ronda's (Kiss This Designs) wonderful portion of this awesome kit!! Check it out and make sure to visit the Hot Chocolate Blog Train forum and leave Ronda of Kiss This Designs some love!!
Kiss This Designs (Ronda)
Hot Chocolate Blog Train kit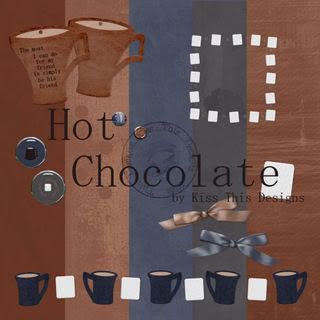 Download here
Now which place to visit next? Hmmm..... let me see, oh yes - your final stop will be Moo Two Designs Hot Chocolate Blog Train Forum!! There you will find Gail P.'s part of this kit!! I hope that you all have enjoyed this kit - the designers had fun but worked hard on them!! Please make sure that you show them all some love!!
Don't forget about all the other exciting things happening in this weekend at Moo Two:
Hope to see you all at the Birthday Bash Chat @ DST, Saturday, December 15th @ 8:00 pm ET!! Lots of wonderful gifts!! Don't forget to check the forum for information on what the trivia will be about!!
Saturday, December 15th don't miss this huge sale that we are having!! You are sure to stock up!!

SHOW YOUR SUPPORT BLINKIE GAME!!
All you have to do is grab one of the blinkies below and show your support to Moo Two Designs!! If you are caught being nice and not naughty you will receive a gift!! Simply post one of the blinkies in your signature block on the sites that you visit!! If you are caught with a support blinkie you will win a gift!! Starts December 14th - December 16th!! Check the Blinkie forum for more details!!




Have a great weekend and stop on by the farm and say HI to us all!!
Hugs,
Melody