Welcome to the Moo Two Designs celebration of Mardi Gras, get ready to sweep those winter blues away!
Mardi Gras for the people, not just the rich, really did not get a firm holding until the 1960's, when there was an effort to generate more revenue and promote tourism. New Krewes were formed, such as Bacchus and rather than holding a masked ball for those of the upper crust, they held huge gatherings with famous names to entertain. As this impacted the economy, it became much less exclusive.
Fun Fact: Many of the floats are created by Jerome Kern. He own and rents these and tractors (like that of a big rig) to pull the floats. Many of them have parts that come apart to suit many different themes. The floats are usually grand and flamboyant.
And now for your Freebie!! This is a QP that I have made with a chat freebie that will be given away at the Mardi Gras Trivia chat Tuesday, February 5th in the Moo Two Chat Room @ 9:00 pm ET!! Attendance gift as well as gifts for the first person to answer questions correctly!! Hope to see you all there!!
Download QP here
Now, your next stop is the Mardi Gras Blog Parade Forum at Moo Two!! There you will get your last part of the wonderful goodies!!
Don't forget to come to the masked ball and dress your avatar in the forum and win a prize!
We also have a fabulous Lagniappe Sale!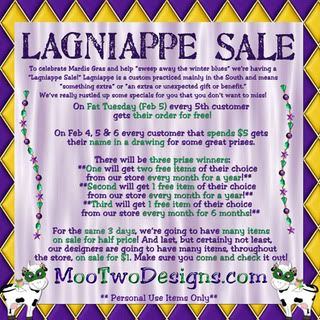 And last but not least make sure to join me for the Mardi Gras Trivia Chat!! Also, the Blog Parade started at the Moo Two Designs Blog!! Go there if you haven't already and throw some beads and get another great portion!!
Hugs,
Melody