OMG - I have been so bad about posting on here lately!! This month has been sooo crazy with Moo Two's Birthday Bash and then the holidays!! I am so sorry that I didn't get on here to wish everyone a Merry Christmas and a Happy New Year!! Well, I hope that you all had a very Merry Christmas and had a wonderful New Years!! I hope you all have a happy, healthy New Year!! We did get out to my cousins last night for an oyster roast and fireworks!! We got home about 11:30 - before the ball dropped!!
In the course of the holidays and all I decided that I needed to cut back on my CT duties so with a heavy heart I stepped down from Lisa Majewski's CT team. Just have too much going on and didn't feel that I was giving her designs the attention they needed!! Please check out her designs - they are wonderful!! You can find them at Digiscrap Boutique & 3Scrapateers!!
Now, my good friend Leslie (who's CT team I am on) has a wonderful Personal Use Grab Bag for $3.00 at SDK!! Check it out!!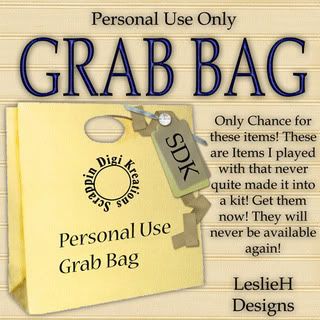 Check it out here
Well, that's it for now!! I promise to be back with more stuff!!
Hugs,
Melody