Hello all!! Well, I have been back since Sunday. What a great weekend we had and my man

KASEY KAHNE

won the All Star Race. Whooo hooooo - I was so darn excited to be there in person to see him win. Let's hope he does that well this coming weekend at the Coca Cola 600 which is again at the Lowe's Motor Speedway. Did anyone watch the race? We had awesome seats - the wrecks that did happen were right in front of us. We also got tickets for Friday night to qualifying and the truck race and were on the front stretch and again all the wrecks happened right in front of us. It was awesome watching the qualifying where they did two laps and then had to pit. If you are a fan and have never been you should go!! I would love to go there again!!
Onto some AWESOME news!! My friend Dawn P. of Bearlyscrapping Designs has a new store!! That's right - she is now selling at Divine Digital - check it out!!



You are cordially invited to visit Dawn P. of Bearlyscrapping Designs new store at Divine Digital!! All kits will be 20% off for one week!!



Here are previews of a couple kits available:
Welcome Spring - Be creative with this kit!! With all of the pretty colors, bows, flowers and fun elements, you can create all sorts of LO's… Spring, Easter, Mother's Day and Wedding are just a few examples of the beautiful LO's that can be made with this kit.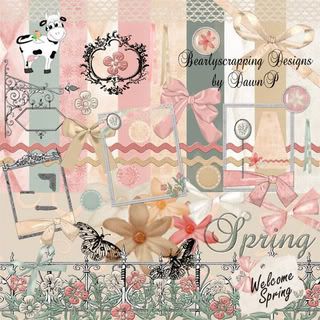 This kit contains:


11 papers
6 ribbons
4 bows
2 brads
4 buttons
2 tags
2 photo frames w/wraps
1 staple
10 flowers
2 fasteners w/bows
1 stick pin
1 lace
1 ricrac
1 photo corner
1 photo prong
1 decorative frame
1 silver frame
2 butterflies
1 iron fence
3 black iron-like elements
1 embroidered word art
Our Dance

- Dawn was inspired to make this kit while her daughters and her were picking out dresses for the Prom. This fabulous kit has 58 elements and 18 papers (90mbs), to make several beautiful LO's to preserve those special memories. I designed this kit to work with several different occasions such as Prom, Weddings, Anniversaries and Formals, but it can be used for so many more …
This kit contains:
Papers-18
Tags-8
Word art-3
Eyelets-2
Frames-5
Swirls-3
Brackets-3
Bows-10
Brads-1
Paperclips-1
Ribbons-3
Flowers-4
Flower border-2
Tassels-2
Torn vellum-1
Floral embellishments-9
Lace-1
Thanks for looking!! Hope you all have a wonderful day!!
Hugs
Melody