Ok

, you all my not know but I am a CT at Moo Two Designs, as well as being the Newsletter Editor, and hosting the Needle in Haystack Challenge, Layout of the Day, and monthly Bingo and Featured Designer Chats. So, with that said I have to advertise that we are looking for an advertising person!! Don't you want to be a Moo Two Girl? Well, see the details below!!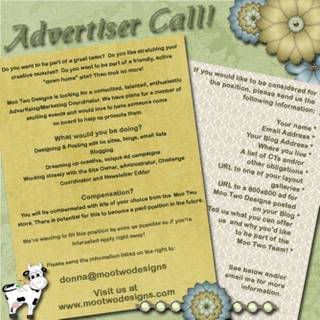 Do you like being part of a great team? Do you like stretching your creative muscles? Do you want to be part of a friendly, active "down home" site? Then look no more!

Moo Two Designs is looking for a committed, talented, enthusiastic Advertising/Marketing Coordinator. We have plans for a number of exciting events and would love to have someone come on board to help us promote them.

The successful applicant will be responsible for promoting Moo Two through various means including designing ads and posting them on various sites; sending the ads through a number of email groups; blogging; dreaming up creative ad campaigns and seeking out, suggesting and implementing new means of marketing Moo Two. We would also consider a team approach to this position.

We're looking for a creative person with a flair for advertising; someone who is knowledgeable in the use of email groups, message boards and galleries and is very active in the digital

scrapbooking

community. You should know how to compose ads, banners, etc. You should be well organized and able to keep track of a large number of email groups, know their posting rules and when ads can be posted.

You will work closely with the site owner, administrator, newsletter editor and challenge coordinator to ensure that all events and sales are thoroughly advertised. You will also need to be active in the site forum. This job will require a fair amount of time and commitment on your part.

You will be compensated with kits of your choice from the Moo Two store. Details will be worked out with the successful applicant. There is potential for this to become a paid position in the future.

Interested? Email us at donna@mootwodesigns.com with the following information:

· Your name

· Email Address

· Your Blog Address

· Where you live

· A list of

CTs

or other obligations

· URL to one of your layout galleries

· URL to a 600x600 ad for Moo Two Designs posted on your Blog

· Tell us what you can offer us and why you'd like to be part of the Moo Two Team!


Hugs!! Have a blessed day!!